Alexander Sanderson Besford was the son of David Besford and Mary Besford (née Turnbull). He was born on 3rd August 1901 at 9 Leslie Row, Radcliffe, Northumberland. His older brothers and sisters were Mary (12), John William (Jack) (10), George (8), Daisy (7), David (4) and Thomas (2).
Alexander, who would be known all his life as Alec, was named after the late Alexander Sanderson who was the brother-in-law of David Besford, Alec's father. Alexander Sanderson had married David Besford's sister Margaret Besford in 1890 but had sadly died of influenza and peritonitis nine years later in 1899 at the age of 32.
Alec lived with the family at 9 Leslie Row until at least 1909. By the time of the 1911 census, when Alec was nine years old, the family were living at 116 Pont Street, Hirst, Ashington, Northumberland. At this point Alec was one of seven brothers and sisters in the house, with only his sister Mary living elsewhere, having married in 1909.
By 1914 the family were at 72 Milburn Road, Ashington. They still lived there when the 1921 census was taken. This recorded Alec aged 19, living at home with his parents and family and working as a shaft lad at Woodhorn Colliery, Ashington. This job would have involved Alec in helping to keep the pit shaft in good order, carrying out minor repairs to wooden guides, bearings and drainage pipes. He would have also hoisted tubs of coal onto the rolleys to be taken up in the pit cage. The 1921 census records that Alec's father David, and brothers Jack, George and Tommy were all also working at Woodhorn Colliery as, respectively, a stoneman, a hewer, a labourer in the lamp cabin, and a putter.
On 4th October 1921 Alec (21) married Elizabeth Mary Dixon (20), the daughter of James Dixon (deceased) who had been a coal cutting machine man. Their marriage certificate described Alec as a Rolleywayman. He would have been pushing mine wagons along the Rolley-way and into the cage at the bottom of the shaft, and taking empty wagons off when they returned to the bottom of the shaft.
Alec and Elizabeth's first child, Mary Besford, was born on 20th December 1921 at 283 Maple Street, Ashington. This was Elizabeth's address at the time of her marriage to Alec so it seems that they were probably living with her mother.
On 8th May 1923 Alec and Elizabeth's second child was born at 90 Garden City Villas, Ashington. She was christened Janet after Alec's sister Janet. Janet's birth certificate records that Alec was now working as a hewer. Very sadly, Janet died at the age of just 7 months on 13th December 1923. The cause of her death was enteritis, leading to wasting of fat and muscle, and to convulsions.
On 21st August 1924, Daisy Besford was born at 90 Garden City Villas. She was named after Alec's sister Daisy. Daisy unfortunately only lived for just over 3 months before, like her sister Janet, she succumbed to gastro-enteritis.
Alec and Elizabeth had a fourth daughter, Ann Gregory Besford, who was born on 1st November 1925 at 70 South Villas, Ashington.
Following the seven month long miners' lock-out in 1926, and the laying off of many Ashington miners, Alec went with his brother Tommy to work as a hewer at the Snowdown Colliery in Kent. Alec and his wife Elizabeth were living at 367 Clarendon Road, Aylesham, Nonington, Kent. On 6th November 1927, their daughter Joyce was born there.
Tommy emigrated to Australia with his wife and son Alf in July 1928. Alec returned to Ashington and was employed again as a hewer.
On 10th August 1929 Alec and Elizabeth's son Alexander was born at 90 Garden City Villas. He sadly died 7 months later, on 9th March 1930, at the Fleming Memorial Hospital, Newcastle upon Tyne. Alexander died of gastroenteritis.
We have a record of Alec and Elizabeth at 49 Beatrice Street, Ashington in 1939. This is from the Register which was drawn up for the purposes of issuing identity cards at the outbreak of the Second World War. Alec was recorded as working as a filler. This job entailed shovelling downed coal onto a conveyor belt and also the placing of pit props in order to support the roof where coal was being extracted. Apart from the entries on the Register for Alec and Elizabeth, there were three other persons recorded as living at 49 Beatrice Street in 1939. One of them was Mary Besford, their daughter now aged 17. The other two entries have been redacted as the individuals concerned could still be alive. The presumption would be that the two persons concerned were Ann Gregory Besford aged 13 and Joyce Besford aged 12.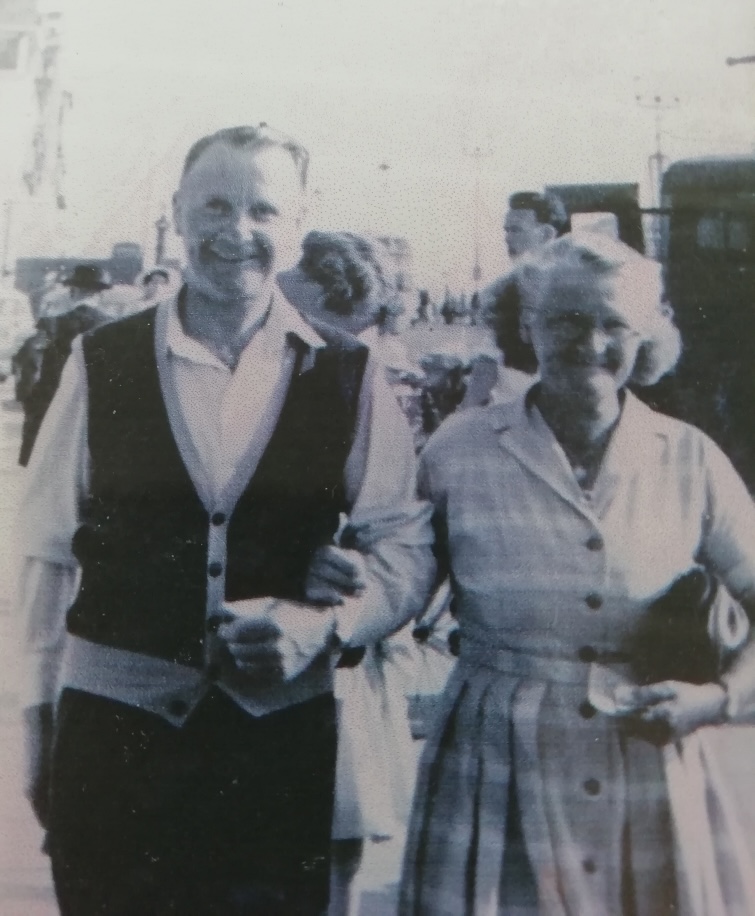 Alec was a member of the Salvation Army at Ashington and played in their local brass band. He was also, like his father David Besford, a Methodist lay preacher.
Alec's last job before retiring was working in the Colliery Timber Yard for the National Coal Board.
Alec's wife Elizabeth died in 1969.
He married for a second time on 3rd July 1971. His wife was Jane Johnson, a widow from Ashington. Alec was 69 and Jane 68. They married at the Salvation Army Hall, Sycamore Street, Ashington.
Alec died on 17th December 1992 at Wansbeck General Hospital, Ashington. He had suffered from emphysema and chronic obstructive pulmonary disease (COPD), no doubt as a result of his work in coal mining, and succumbed eventually to bronchopneumonia.
Alec's second wife, Jane, died in 1994.