George Besford was born at 19 Church Street, Amble, Northumberland on 31st January 1893. He would go on to serve in the Northumberland Fusiliers in the First World War.
The 1911 Census recorded George living with his parents and siblings at 116 Pont Street, Hirst, Ashington, Northumberland. At this time he was working as an 18-year-old labourer "at Bank", meaning at the surface of a coal mine.
When the First World War broke out the Northumberland Fusiliers recruited volunteers into the newly formed Tyneside Scottish and Tyneside Irish Brigades.
There were many men of Scottish or Irish descent in Northumberland and on Tyneside, so this was a good recruitment tool. George Besford joined the Third Battalion of the Tyneside Scottish Brigade on 10th November 1914. His mother Mary Besford (née Turnbull) had been born in Scotland in 1865 at Eckford in Roxburghshire and her Scottish parents (George's grandparents) had moved south of the border into Northumberland the following year. This family background may well have been what made George join the Tyneside Scottish, although in practice many men joined up along with their pals rather than because of a specific Scottish connection.
George was Private 22/79 George Besford. The 22 stood for the 22nd (Service) Battalion of the Northumberland Fusiliers.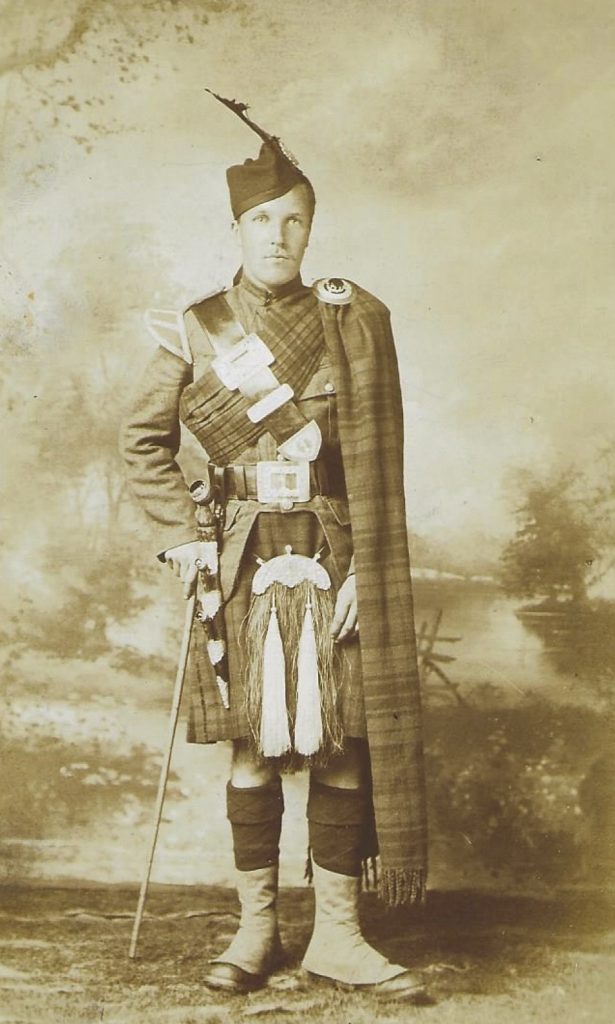 After training at Alnwick and at Salisbury Plain, George sailed from Southampton to Le Havre on 10th January 1916. Further intensive training took place in France before the Tyneside Scottish (as part of the 34th Division of the British Army) moved to the Somme.
1st July 1916, the first day of the Battle of the Somme, became (and remains) the costliest day in the history of the British Army. 57,470 men were killed, wounded or missing at the end of that day. One of the wounded was George Besford.
The Tyneside Scottish and Tyneside Irish Brigades were in trenches opposite a village called La Boisselle, which was a strong point in the front line held by the Germans. Intensive shelling prior to the attack at 07:30 on the morning of 1st July had been intended to cut the German wire and pulverise their trenches. In addition, two mines were detonated two minutes before zero hour. These mines had been placed under the German lines following lengthy tunnelling operations. The Lochnagar mine at La Boisselle had twin charges, together amounting to 60,000 pounds (27,000 kilograms) of Ammonal. This was the largest single explosion of the First World War and it was actually felt in the South of England. Despite all of this, the Germans remained well prepared and, emerging from underground bunkers, subjected the advancing British to machine gun fire and shelling.
George Besford was hit in the left leg by shrapnel from a shell and took cover in a water-filled shell hole. He was eventually brought in after many hours and had to have his leg amputated.
When George was able to resume work he became a labourer in the Lamp Cabin at Woodhorn Colliery, Ashington. This involved keeping miners' lamps in good and safe working order, and ensuring that miners' individual check tokens were exchanged for lamps before men went underground, thus maintaining knowledge of which men were underground at any time.
On 20th November 1920, George Besford married Emily Maud Carter at Gateshead Registry Office. Maud, as she was known, had been born in Highgate, London, the daughter of Henry and Emily Carter. The 1911 Census records Maud as 18 years old and living with her parents in Small Heath, Birmingham. Her parents were running a second-hand furniture business.
The 1921 Census records George and Maud as visitors staying with her parents at 87 Runcorn Road, Smethwick, about four miles west of Birmingham city centre.
On 6th October 1921, George and Maud's son Henry (but always known as Harry) was born at 87 Runcorn Road, Smethwick. George and Maud lived in Ashington until almost the end of their lives, at 251 Rosalind Street.
George Besford died at his son Harry's home (74 Charles Road, Solihull) on 20th September 1966. The cause of death was stomach cancer.
Maud continued to live at 74 Charles Road until her death from lung cancer and pneumonia on 14th June 1970.
Main image: Photo of George Besford in Tyneside Scottish dress uniform