Besfords who have been involved in sport.
Swimming
John Charles Preston (Jack) Besford became British and European swimming champion, and won the British backstroke title seven times from 1927 to 1936.
Football
Willy Lyons played for Ashington FC as a part-time professional in the North Eastern League.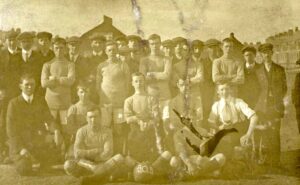 John William (Jack) Besford played centre-forward for Radcliffe Excelsior in the Coquetdale League, and subsequently in the same role for Seaton Hirst Celtic.
Running
Willy Lyons was a professional sprinter.
Cricket
Ted Besford played cricket as a wicket-keeper, and went on to be captain and later club secretary of Carlton Cricket Club.
Australian rules football
Ted Besford played for the Fitzroy Football Club in the Victorian Football League between 1939 and 1941.
Boat racing
George Besford (1831-1908) was actively involved in boat racing.
Bowling
George Besford (1831-1908) took up bowling later in life and was noted amongst other champions.
Sports journalism
Pat Besford (1919-1988) was a leading British sportswriter, who compiled the Encyclopaedia of Swimming.