Known as Jack, John Charles Preston Besford was a dentist and amateur swimmer, who became British and European swimming champion, and won the British backstroke title seven times from 1927 to 1936.
Jack Besford was born on 30 January 1911 in Chorlton-cum-Hardy, Greater Manchester, UK. He died aged 101 in March 1993 in Spain.
Jack studied Dentistry at Manchester, graduating in 1933. After time as an officer in World War II, he taught dentistry in China. He later spent time in Japan before returning to the UK to operate a dental practice in Brighton. He was awarded an OBE in the 1975 New Year's Honours List for services to the British community of Tokyo.
He represented Great Britain at the 1928 Olympics in Amsterdam, and the 1936 Olympics in Berlin.
Besford competed in an era before professional swimmers, and pursued his training in the time he wasn't studying or treating teeth. After coaching from Jack Laverty at the Victoria Baths ↗ in South Manchester, he became British number one for backstroke at the age of 16. He entered his first major international event at the 1928 Summer Olympics ↗ a year later and finished sixth in the 100m backstroke. He had a few years out of the circuit – due largely to his studies in dentistry – before returning at the 1934 European Championships ↗ in Magdeburg, Germany.
1934 European Championships and the Hitler Trophy
The games took place just a year after the Nazi party came to power, and Hitler was so sure of the dominance of the German swimmer, Ernst Küppers ↗, in Besford's event – the 100m backstroke – that he planned to use the race as propaganda, and had a special trophy made. The trophy was adorned with eagles and other Nazi imagery and made of bronze, weighing around 50kg, and standing 70cm high. It was called the Hitler Trophy and the winner was to have it presented to him by the Hitler personally.
Besford narrowly beat Küppers and ruined the Nazi plans.
Hitler was so furious that he left the event, refusing to hand him the trophy, which was eventually presented to him by Herr Hax, the President of the German Swimming Association.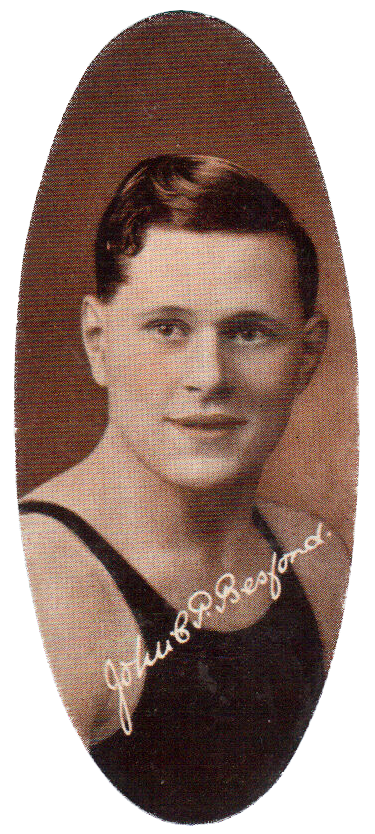 Jack's son, John Besford, is also a dentist, and the bronze eagle is now said to reside on the mantelpiece of his own dental practice in London.