Two brothers, George Besford and Thomas Besford were tried at the Old Bailey in London on 7th September 1768. They were charged with Theft with Violence: Highway Robbery.
The combination of violence and theft made these offences some of the most serious tried by the court. Because such crimes interfered with the freedom to travel, Highway Robbery was viewed as particularly serious.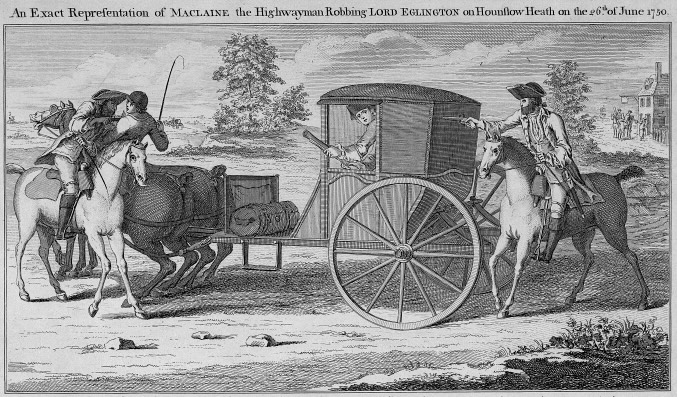 The indictment on George Besford and Thomas Besford was of "Making an assault on Thomas Delaval, Esq.; putting him in corporal fear and danger of his life, on the King's highway, and taking from his person one watch, with the box gold, and the outside case tortoiseshell, value £8, one triangle crystal seal set in gold, value 40 shillings. and two guineas, the property of the said Thomas, May 31 1768."
Proceedings of the Old Bailey, 7th September 1768, pages 57-59.
These images are reproduced by permission of Harvard University Library from the microfilm, "The Old Bailey Proceedings", (Harvester Microform, a former imprint of the Gale Group, 1983).
(Click to enlarge)
The proceedings were documented as follows:
Thomas Delaval, Esq: I was coming to London, and on Hounslow Heath I was accosted by two men on horseback, between eleven and twelve at night, on the 31st of May; they took from me my watch, as described in the indictment, and two guineas in money; it was dark that I could not see their faces, neither can I swear to the colour of their horses.
Joseph Harris: I keep a silversmith's shop at Maidstone in Kent; the prisoner, George Besford , came to my shop the 20th of July, about five in the afternoon, he brought this watch to sell (producing a watch with a gold box and tortoiseshell case).
Prosecutor: This is the watch I lost that night, the name Hunter is on it, I have had it long in my possession, I know the watch and seal well.
Harris: The prisoner asked me if I would buy a watch; I said I would, if I liked it; he said it was his aunt's watch that lived down in Sussex; I told him it was rather odd that he should come so far to sell a watch, but if he would leave it in my possession a quarter of an hour, I would give him a proper answer whether I would buy it or not; he left it, and went out; I followed him about ten rods, I saw him speak to the other prisoner, his brother; they went together to the Rose and Crown alehouse; I went directly to Mr. William Rolfe , an attorney, to know what to do, as I suspected it to have been stolen; I desired him to come over, and sit in my shop in a careless sort of a way; there was a brother-in-law of mine in my house at the time, I desired he would go to the Rose and Crown, and see if a person in a blue coat, and another in a round frock, were there; he came and said they were there; after that George came up to my shop again, he asked me if I had considered of it; I told him I did not cause to deliver it him again, without going before the Mayor of the town, for I suspected he did not come honestly by it; he seemed to think it rather hard, and said, if I did not chuse to have it I might let him have it again; I told him, if the Mayor ordered me so to do I would; we went then down to the Mayor, he told his story to the Mayor, that it was his aunt's watch that lived at Lingfield in Sussex; the Mayor asked what business he had in Maidstone, and what business he was in; he said he was in the trading way, a free trader; that is what we look upon with us to be in the smuggling way he was desired to give an account how he came b the watch; he could give no other account that that it was his aunt's; I told him I would ride a hundred miles to any person he should desire m to go to; he was committed; he was asked hi name, he said his name was Barton; I was t have gone to his aunt the next morning, but where he was sent to goal, Thomas Besford was sent for they were examined separate; Thomas owned the affair, and signed his confession, it is in court; I was present at the time, and heard him make it, and saw him sign it (produced in court); they pretended they were strangers to each other; he owned their pistols were at home, and the other watch also, which is laid in another indictment; seeing the name Hunter on the watch, I wrote a letter, and sent by the post to know whether Mr. Hunter ever sold a gold watch with a tortoiseshell case; he sent me a letter the next day, that he sold such a one to Thomas Delaval , Esq; the next night I sent a letter up to Sir John Fielding , to know whether he had had any notice of such a watch being stolen; he sent me word it was upon his file; I sent to my brother in Fleet-street, who sent me this notice down, which answered the description of the watch; after George was committed, which was about half an hour after eleven o'clock, I went home, after which the Mayor sent for me again; in the mean time he was examining Thomas Besford; what the Mayor had said to him I know not, I know nothing of a promise made him.
William Rolfe: I am an attorney, and live at Maidstone; Mr. Harris came for me, he showed me this watch, and told me his suspicion, and desired my advice, whether he might be justified in stopping it; I said, I believed he might, not only in that, but the man or men also; he desired me to go over to his shop, the man was to call again; I went, but previous to that I sent for a constable that lives just by; soon after the prisoner George came into the shop; I said, pray are you the young man that brought this watch to sell; he said he was; I asked him how he came by it, saying it was a pretty good watch; he said he came from Lingfield, and that it was his aunt's, and that she ordered him to sell it; I asked him what his aunt was; he said she was a widow, and it was left her by her husband; I asked him then what his uncle was; he said, a miller: it is a watch Mr. Harris says goes upon jewels; I said, millers do not usually carry such watches as this; I asked how his uncle came it; he said, his uncle bought it of a gentleman, he had been dead about a year and a half; I ed him if he knew that gentlemen; he said he not; I asked him what his own name was; he said name was Barton, he intimated that he smuggled; I told him, from what little I understood m his account, he did not come honestly by it.
Prosecutor: What were his words?
Rolfe: He said he was employed in a fair trade, that is a term in our country for smuggling; I told him it would be dangerous for Mr. Harris in buying watches, where there was not a good account it, and I hoped he would go before Mr. Mayor; then he seemed to hesitate, and said, if he did not like to buy the watch, he might let him have it gain, and he would go elsewhere; I told him I must insist on his going before the Mayor to give better account; I called the constable, and put him under his care to carry him before the Mayor; then asked him the name of his companion; he said, what did I want with that; I said, only to ask him a few questions; he told me his name was Thomas Histead; I asked him where he was, he did not care to tell me; said he, if you want to see him, I will go along with you; no, I said, I did not choose that, let me know where he is, and I go and see for him; at last he did tell me he was at the Rose and Crown, he was secured, and ought to Mr. Harris's shop; I then asked him is name and connections with the other man; he ressed very much to see him, I told him he should him presently; he asked where he was gone to; said, before the Mayor, and he should follow him; I asked him his name; he told me it was Moredale; I said, your comrade said it was Histead; he still insisted that his name was Moredale; I then asked him what his business was, and his connections with the other man; he said they had been out in East Kent, a smuggling, and, that he came down that way with the other man; he did acknowledge at last he knew of his coming there to sell a watch; I asked him several other questions relative to the affair, and he answered quite different from what the other had done; then I had him before the Mayor, George was examined before I came there that time; we were in some doubt what to do with Thomas, how to detain him, because he did appear with George; as he said he was a smuggler, I thought it would be proper to commit him as an idle disorderly person; I had heard George examined, he answered much the same as has been mentioned, that his name was John Barton.
Mr. Russell: I live at a public-house with my father and mother, I remember the two prisoners being at our house; I took the prisoner Thomas by the collar, and led him all the way to the Mayor's, and staid there, and had him away to the goal; he was along with me while George was examined, they did not know how to commit Thomas, without the town-clerk; the clerk was there; Mr. Lewis was there; he said they may commit him for six days, if I would swear I saw the two prisoners together; accordingly I did: when the mittimus [a warrant committing someone to prison] was made, and he was going away, the man that went out with him came in and said, he has owned everything; he was brought back again, and then he owned before the Mayor what he was; he said the other was his brother, and his name was George Besford, and that his name was Thomas Besford; after that he fell a crying, and said he had a wife, and came no farther than Northfleet; we found a watch-chain about him, with an old seal; he said the watch belonging to the chain and seal was at his father's house (the chain produced in court); I was present when he signed this paper, and I saw the Mayor write his name.
Prosecutor: Were there any threats or promises made use of in order to his confessing?
Russell: I never heard a word of either, neither did I make him any.
Prosecutor: Was he in liquor?
Russell: No, they had but one pint of beer in our house.
James Osbourn: I am a constable, I was sent for on this occasion; when the Mayor committed Thomas, he put him under my care; when we had taken him out of the room, I believe I said to him, it will be better for him if he would confess; then he said, Lord have mercy upon me, I am a poor unhappy creature, that man that is committed by the name of Barton is my own brother; I had a wife, and she is dead, I have two small children, and grow poorer and poorer, and I have been urged on to do this; then I carried him back to the Mayor again.
Prosecutor: During the time you were before the Mayor were there any promises or threats made use of to him?
James Osbourn: I went in and told the Mayor of it, then I brought him in, and he made his confession immediately.
George Besford 's defence: I told Mr. Mayor that my uncle had left it me; he told me if I came by it dishonestly I had better tell him; I told him I came by it very honestly, that was not so, it was not left by my uncle; I had been up to London, and I found it in the main road upon Blackheath, about seven days before I came to Maidstone; I thought if I had it cried, somebody might own it, that had no more right to it than I; I carried it to Mr. Harris's to sell, and as they were strangers to me, I thought if I told them I found it they would stop it, and have it advertised, and so I have no recompense for finding it; my brother never saw me find it.
The Prosecutor did not appear against Thomas Besford.
Verdicts:
George Besford – Guilty
Thomas Besford – Acquitted
George Besford was sentenced to death. He died on 23rd October 1768, likely at the Tyburn Gallows, at the site now occupied by Marble Arch in London.
Source: Old Bailey Proceedings Online (www.oldbaileyonline.org, version 8.0, 07 November 2023), September 1768, trial of George Besford Thomas Besford (t17680907-77).